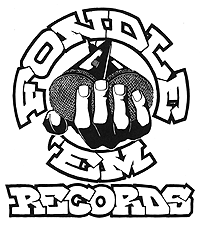 The Cenobites
Godfather Don feat. Kool Keith
Lex Lugor
I Was Forgotten
Kick A Dope Verse (feat. Bobbito)
Mommy
You're Late (feat. Percee-P)
Rhymes I Sniff aka Carlos Died
Keep On (Feat. Bobbito)
How The Fuck You Get A Deal
Kick A Dope Verse (Remix)
Return To Zero (CD Bonus Track)

The Cenobites LP/CD is currently on sale at the Fondle 'Em Superstore.


---
Fondle 'Em Home