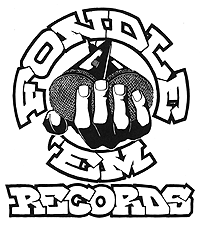 The Juggaknots
"Bronx-born siblings Breezly Bruin and Buddy Slim surface from the sub-underground to take angst-tale rhymes to impressive heights...a cinematic gem that raises the stakes for modern-day griotry." - Marcus Reeves, VIBE
"Unfolding their penchant for complex labyrinth flows, mature poetics and emotionally-grounded content...the crux of this aural experience is in the Juggaknots' ability to reel out vivid stories of trouble life. The added bonus to these well-developed tales is their unpredictable endings...with a sharp ear and a desire for expansive oral fiction, the Juggaknots are enough to keep your mind blown for the long run." - Slip Roc, THE SOURCE (***1/2 mics)
"This New York group once has a major recording contract with EastWest which never released their material. During that time, Bobbito [Garcia] took a liking to the Juggaknots and would invite them to WKCR's Stretch Armstrong Show...one of their songs 'Clear Blue Skies' was one of the show's most requested grooves. This poignant tune, featured on their self-titled album, explores racism in a clever scenario that revolves around a father and son. The father disapproves of his white son's interracial relationship with a black female and eventually kicks him out of the house. Also on a similar socially conscious vibe is 'Romper Room,' which details how kids today grow up playing with guns rather than toys. Thankfully, instead of letting fresh music sit on the shelf and go stale, the Juggaknots have put out this long-overdue album. Although it was recorded a couple of years ago, The Juggaknots can still hold its own in the current marketplace." - Elliott Wilson, CMJ Beat Box Reviews

The Juggaknots LP is not currently in print, sorry about that.
Butter Side
1. The Hunt Is On
2. Troubleman
3. Jivetalk
4. Loosifa
5. Epiphany
Barber Side
1. Romper Room
2. Circle Pt. 1
3. Clear Blue Skies
4. I'm Gonna Kill U
Support Hip Hop Artists Who Go For Delf.
---
Fondle 'Em Home